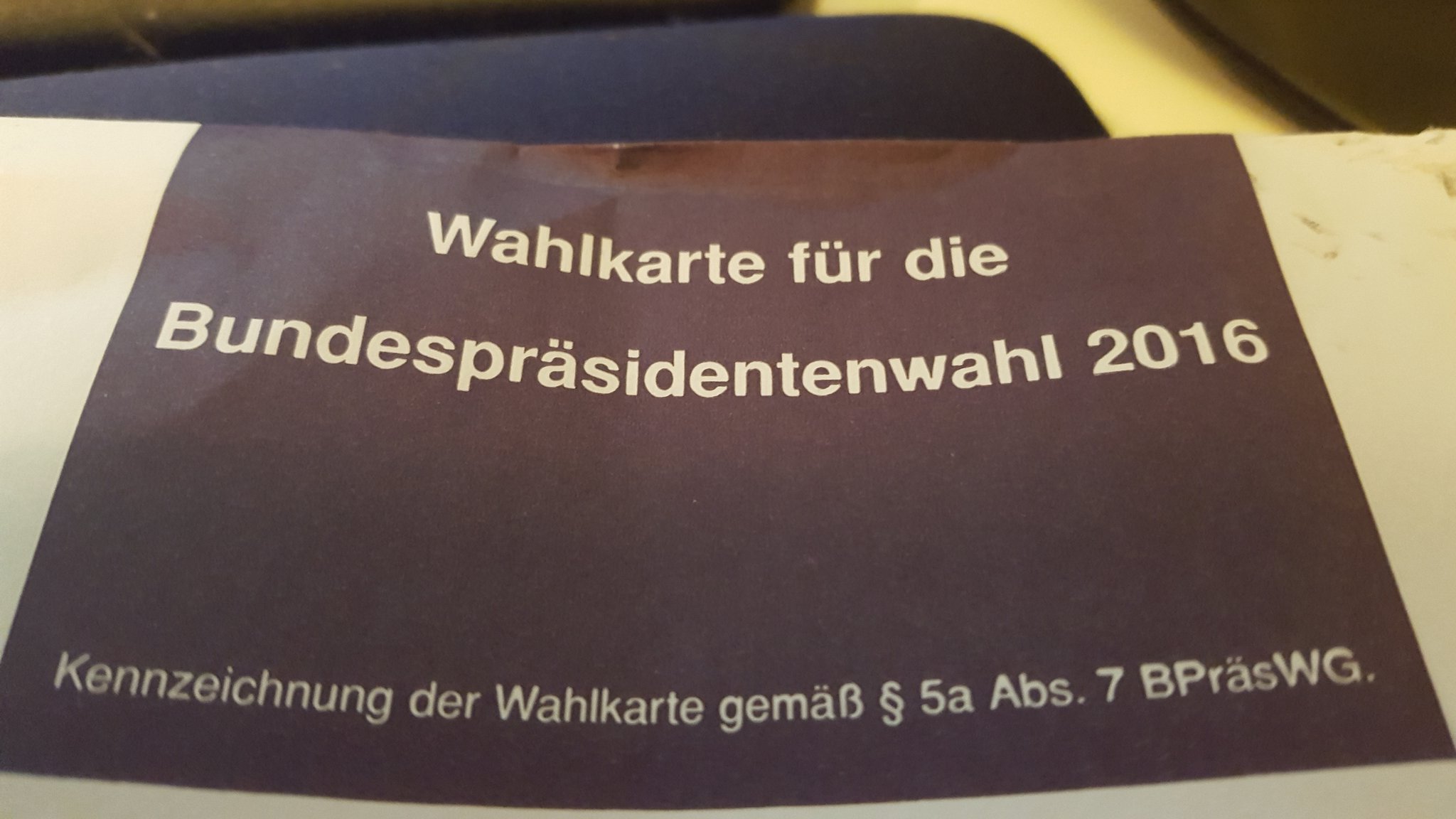 [I posted this on Facebook on November 9th. Including here for the sake of completeness/easy reference.]
I'll be the first to admit that this comes from a place of mild hypocrisy: I have never voted in an Austrian election. By the time I had the right citizenship and was the right age, I was no longer living in the country, and it seemed like a good idea to leave the voting to those who would actually be affected by it.
But, the world is going to hell in a handbasket and needs must. And thanks to court shenanigans and dodgy glue I have finally got my act together and have registered and received my polling card for the Bundespraesidentenstichwahlwiederholung. (Thanks, Patrick, for the repeated prompting, I really appreciate it!)
Now here's the thing. Leading up to the first round of this clusterfuck of an election, you couldn't tell from my Facebook feed that there was an election going on in Austria. Nothing. Political tumbleweed. It's something that's always bothered me about the country: the complete and utter apathy when it comes to politics. I can't say I've enjoyed the #Brexit campaign, or the US presidential campaign, but I'd rather have those than the complete silence followed by "oh shit, we accidentally a nazi" that suddenly (and briefly) flooded my Facebook feed the day after the first round. And what's even scarier is that, with a few small exceptions, we seem to have gone back to that silence leading up to this third attempt at a run-off. But here's the thing: we didn't *accidentally* a nazi. Given the regularity this happens with in Austria, we should know better by now (and yes, that includes me). We should not be waiting until the nazi gets 50% of the vote before we wake up and briefly talk about politics before getting distracted by shiny things again.
Granted, the Austrian president doesn't quite have the same global reach and impact as President Trump will. But large chunks of the world are lurching to the right, becoming increasingly hostile for any and all marginalised groups in society, and one more country in Europe, even a small one, going that way is going to make things significantly worse.
So get your act together and vote. Because if we wake up on the 5th of December with a nazi president and you can't look me in the eye and say "I did my damnedest to stop this", then you might as well have voted for him.
So there. Go. Do the thing. I'm fucking done with losing an entire day of productivity to drink the day after elections. I've done it twice this year already. Don't make me do it again.